Part 2 ...
SOME HISTORY OF BIRMINGHAM RADIO...
Birmingham's first radio station hit the air on May 27, 1925 as WBRC. It stood for (B)ell (R)adio (C)orporation. The second station to make its broadcast debut was WKBC, on February 3, 1926. WAPI, the first radio station in Alabama, was launched in Auburn and wouldn't move to Birmingham until about 1929.

"Nothing But Radio"
It almost looks like an old advert for Ma Bell, but was the logo for WBRC owner Bell Radio Corp. back in the '20s.
WKBC, shown in this 1932 picture, had studios located in the Tutwiler Hotel. Two years later, this station would be bought by The Birmingham News and become WSGN.
In the Spring of 1934, R. B. Broyles Furniture Company - owner of WKBC - sold its radio property to The Birmingham News. This move was done with amazingly little fanfare, considering the buyer was a newspaper! The newspaper's radio log dated April 23, 1934 showed a new set of call letters: WSGN. Standing, of course, for (S)outh's (G)reatest (N)ewspaper. And we all know this idea wasn't exactly original, as the legendary Chicago radio & TV call letters WGN stand for (W)orld's (G)reatest (N)ewspaper, after parent entity The Chicago Tribune. Later in April of '34, WSGN held a grand opening of an auxiliary studio in Bessemer, to be connected with its main studio location, the Tutwiler Hotel.
Until the 1940s, the Magic City had three radio stations: WSGN (affiliated with the NBC Blue Network - the 'lesser' of the two services, offering mainly lower-rated arts, public affairs and news programs), WBRC (NBC Red - where most all of that network's popular entertainment programs were featured), and WAPI (aligned with the Columbia Broadcasting System - CBS).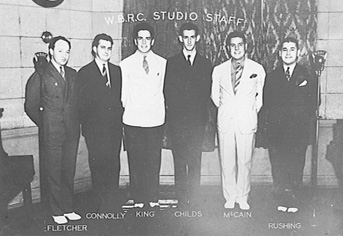 Staff of WBRC Radio, 1938 - Birmingham radio legend Leland Childs is standing third from right.

March 29, 1941 was a confusing day for radio listeners. On this day the North American Radio Broadcasting Agreement (NARBA; enacted to coordinate radio channel assignments, and minimize interference, especially between countries) was drafted and signed. This resulted in a massive "channel shuffle" -- most every existing AM station changed its frequency! Birmingham's three stations were no exception, and WSGN, WBRC and WAPI all settled into new numerical homes. WSGN moved to 610 and built a two-tower transmitter behind the Alabama State Fairgrounds; both self-supporting towers are still in use today. WBRC relocated to 960 on the dial, and WAPI moved first to 1170, and then to its present position of 1070.
In the '40s, three more stations would begin broadcasting in the city: WJLD, WTNB and WVOK. According to retired WBMG-TV engineer Herb Coleman, WTNB signed on first at 1490 kc (kilocycles); WTNB, in fact, stood for its original owner, (T)om (N). (B)eech, a local real-estate man ... and developer of the Beechwood subdivision. Mr. Coleman added, "The station had the Mutual network and only stayed on about 2 years before it had union trouble and left the air. Madison Broadcasting bought it after it stayed off the air for over a year and moved the frequency to 850 when it became WILD."
WVOK was put on the air in 1947 as the state's first 50,000-watt station, the maximum power allowed AM stations by the FCC. WVOK raided WAPI to hire one of its first announcers, a man with a smooth voice and who knew how to "connect" with the rural population. A man named Joe Rumore.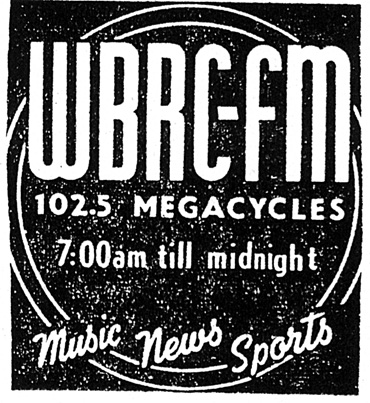 FM came to Birmingham in the late '40s, first with WAPI putting WAFM 99.5 on the air ... and then WBRC built WBRC-FM 102.5 atop Red Mountain in 1947. WBRC-FM broadcast with a power of 500,000 watts (in those days before the FCC limited power to the current 100,000), and was said to be the most powerful FM broadcast station in the world! It wasn't destined to last, however, and the FM was taken off the air in June 1948. The building atop Red Mountain which originally housed the FM station quickly found a new purpose ... for the TV station WBRC was preparing to put on the air for following year.

Birmingham radio icon Joe Rumore used to send Christmas cards to his WVOK "radio neighbors."
This card is probably 1950s vintage.
...and brother Duke was the louder and more intense of the two. Here he is at the Alabama Theater doing a remote broadcast in 1957 for WSGN. (Charles Preston archive)
The 1950s brought a wave of changes to radio, forcing it to reach listeners in a new way. For most, that meant "music and news" formats. For some, the new emerging genre of music called "rock and roll" literally kept many stations in business.
In December 1955, WSGN 610 debuted such a "music and news" format, with Duke Rumore as its main on-air talent, the man said to be The Magic City's first bona-fide "rock jock." Later in the decade, another big name - Tommy Charles - would join the lineup (his best fame to date was for a small hit single on DECCA Records, "Our Love Affair."). WSGN was Birmingham's first fulltime "top 40" radio station.
Competition was inevitable ... rock 'n' roll music, despite many older citizens' resistance to it (some going as far to call it "the devil's music"), was a license for a radio station to print money. WILD-AM 850 (the old WTNB) was rechristened WYDE, and soon taken top-40, joined also by WVOK 690.
Some other radio stations hit the airwaves in this decade, including WLBS (later WATV), WEZB ("The Air Castle of Alabama") - originally at 1320, then moved to 1220 (later home to WAQY, the WBUL, and the present WAYE), WIXI (later WLPH), WSGN-FM (later to become WSFM, then WDJC), WJLN-FM (later to be WZZK), and WENN.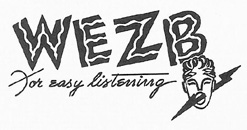 "For Easy Listening" -- WEZB advertisement from the Shades Valley High School yearbook in 1956. Truly a bizarre logo ... it looks like something one might see identifying a college rock station today.
(courtesy of Todd Jones)

| | |
| --- | --- |
| | |
| The WILD studios in 1954, on US 31 beneath Vulcan. When the station became WYDE, and the format rock 'n' roll, that circular driveway became a drive-up request window. | The Southern Life & Health Insurance Building on 2320 7th Avenue South, home to WSGN in the '50s and early '60s. In 1964, they would move to the penthouse of what was then the city's tallest skyscraper, the City Federal Building. |
Birmingham radio in the early 1960s offered a diverse selection of music and talk programs. WYDE, WSGN and WVOK were playing top-40 rock and roll, "adult standards" were offered by WBRC and WAPI, two stations -- WENN and WJLD -- appealed to the black audience, Bessemer's WYAM and Irondale station WIXI offered up country music, and the Magic City even had a fulltime classical music station for a time with WSFM 93.7 (the former WSGN-FM), a small, struggling station being kept on the air as a crusade by owner and classical lover James Melonas. WJLD's FM station, WJLN, programmed jazz music during certain timeslots. Talk programs were offered up by CBS radio affiliate WATV-AM 900, which also had a variety of music programs. And WAPI on the weekends aired Monitor, NBC Radio's wonderful music and information service. With the exception of WSFM, all of the other FM stations at the time were little more than repeaters of their more successful AM sister stations.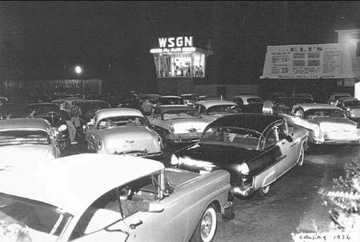 The legendary Sky Castle behind Eli's Drive-In, 1956.
This was WSGN's "home away from home" during the station's early rock 'n' roll days. (Charles Preston collection; photo provided by Joe Dentici)

WAPI-AM 1070 was everywhere in the '60s. As Birmingham's dominant "adult" station, their personalities made frequent appearances outside the confines of their Red Mountain studio.

Here at one such remote broadcast at Eastwood Mall in the early '60s, we see Dick Breit (left, on the platform) and Bette Lee (platform right) interviewing a guest, while Cousin Cliff poses with two little girls.

Back in those days, WAPI announcers often pulled some form of 'double duty', appearing both on radio, and across the hall on channel 13.
(courtesy of Tim Hollis; from Dick Breit archive)

A colorful "QSL card" which WSGN sent out in the late '50s and early '60s. Note the address - this is the Southern Life and Health insurance building seen above.

QSL cards were sent as verification to radio hobbyists who reported the reception of a station at great distances. Some stations weren't that creative with 'em, but others made showpieces out of those little cards.
(courtesy of J. D. Weeks)
The next big wave of change took place late in 1963, when Jim Taber -- a man who helped mold Mobile's WABB into a top-40 monster -- came to WSGN as Program Director. Taber changed the collective name of WSGN's staff from "The Swinging Southern Gentlemen" to "The Good Guys." The latest PAMS jingles soon filled the air, and by the the Summer of '64 the studios were moved "on top of the city" --the City Federal Building penthouse.
It was magic. Taber's touch turned another station to gold, and WSGN was transformed almost overnight into one of the top rock and roll stations in the country.
Taber's "New WSGN" was especially devastating to WYDE, the other fulltime rocker. So much so that on Thanksgiving 1965, the 850 spot on the dial bowed out of the rock & roll race, and began programming a format it called "Countrypolitan." There already were two country stations in Birmingham, but as with many of them at that point, the presentation was very "hick" in sound and execution. WYDE took the country music and placed it in a modern, uptempo top-40 like environment. It especially appealed to those in their 20s and 30s who enjoyed contemporary music to date, but were having trouble relating to The Beatles and all of the other "British invasion" artists. They were 'growing out' of rock 'n' roll, but didn't like the "hillbilly" baggage that country music carried. WYDE made country music 'accessible' for younger people ... and made a killing!

Birmingham Radio: 1966
The distinctive "radio dial" graphic which appeared in the
Birmingham Post-Herald during the mid '60s


Station formats as of 1966:

610 WSGN: Top-40
690 WVOK: Top-40
850 WYDE: Country
900 WATV (CBS): Talk/MOR (?)
960 WBRC (Mutual): Adult Music
1070 WAPI (NBC): Adult Music
1220 WAQY: Top-40
1260 WCRT (ABC): Easy Listening
1320 WENN: Rhythm & Blues
1400 WJLD: Rhythm & Blues
1450 WYAM/Bessemer: Country
1480 WIXI/Irondale: Country
93.7 WSFM: Classical Music
94.5 WAPI-FM: Adult Music (?)
96.5 WCRT-FM: Easy Listening
104.7 WJLN: R&B, Jazz
106.9 WBRC-FM: Adult Music (?)
Meanwhile, Tommy Charles and Doug Layton left WSGN to help form another radio station. Charles - along with the owners of Tom Gloor Chevrolet (who had a majority stake in the station) - acquired WEZB, and the newly-christened WAQY (Wacky 1220) took on established rockers WSGN and WVOK with their own approach to contemporary music. WAQY, a paltry low-powered daytime-only station, competed by offering a lower-key, more "adult" top-40 sound. Layton & Charles' brought to Birmingham a new concept of a two-man morning show, but in spite of their own popularity, WAQY was otherwise destined to be little more than the answer to a trivia question. That is, until John Lennon made his infamous (and misconstrued) remark about The Beatles being "more popular than Jesus."
Just great, another black eye for Birmingham! Never mind that the whole thing was largely a grandstanding stunt done by a flamboyant station owner who wanted some attention for his little 1,000-watt daytimer, a tiny rock 'n' roll voice tilting at the windmills called WSGN and WVOK. A great deal of stations grandstanded right along with Layton & Charles saying THEY wouldn't play Beatle songs, either. The funny thing is, most were adult standards or country; the Beatles wouldn't have been played ANYWAY!
Conspicuously absent from all ban-the-Beatles lists: WSGN and WVOK! Ben McKinnon, WSGN's Station Manager, confirmed that his station "never banned" the group during that period. The GM of top-40 station WJHO in Opelika, Ala. was blunt: "We don't care one way of the other whether Beatle records are played or not. The so-called 'Ban the Beatles' drive was originated in Birmingham for the purpose of giving notoriety to a relatively new Birmingham radio station."
(Frankly, this is a sore spot with the author; because of all the publicity WAQY garnered, and the film footage immortalized in several Beatles documentaries, the perception today is that Birmingham, Alabama was anti-Beatles. Completely untrue!)
WAQY dropped top-40 for a talk format by 1970, and after several format turnovers emerged as black-formatted WBUL "The Bull" in the early '70s.
In 1967 it was the end of the line for classical-formatted WSFM, and it became WDJC (Witnessing Daily for Jesus Christ), one of the first full-powered Christian-formatted FM stations in the country. FMs were beginning to wake up because of an FCC mandate requiring some separate programming. WCRT-FM 96.5 would change to WQEZ and begin offering stereo instrumental easy listening music. WAPI-FM 94.5 was automated with "Solid Gold", a syndicated 'adult rock' format. WBRC-FM also was engaged in easy listening, but began dabbling into an early top-40 format toward 1971. And WJLN-FM 104.7 was airing "soul" music, often duplicating WJLD-AM 1400, but at night they went to a "progressive/underground rock" show. Finally, in 1969 WENN-FM 107.7 hit the air, a stereo FM station programmed for the African-American community, one of the first ever.
For the engaging story of one of Birmingham's first black-programmed radio stations, we recommend a side trip to WJLD's history page.
The next big change involved WBRC-AM & FM. Taft Broadcasting divested itself of its Birmingham radio stations, selling them to Nashville-based Mooney Broadcasting. Old-line WBRC-AM 960 became Birmingham's newest rocker, WERC! The FM station started playing AOR (album-oriented rock) music at night. A true radio war was underway .... the young turks of "Most Music ERC" against the big sound of "The Big 610." Big names in the '70s included WSGN's Amaysa "Cookin" Kincaid, Jon "Rock & Roll" Anthony and a young Rick Dees ... competing against the likes of Doug Layton, Coyote J. Calhoun, and Jim Christian over at WERC.
Longtime Birmingham radio personality Coyote J. Calhoun recalls "the Birmingham Radio Wars"
Trouble befell WENN when its ownership went insolvent, and black tycoon A. G. Gaston swept in and bought the station out from receivership. Their first order of business was to fire Joe Lackey, the white station manager. Big mistake. WENN was the #1 black station in Birmingham, and over the years (and throughout the racial turbulence of the early '60s) Lackey had built an esprit de corps most in radio can only hope to imagine. The entire all-black DJ staff walked out with him, and after Lackey inked a deal with struggling talk station WATV-AM 900, he hired all of the former WENN DJs, flipping WATV to a soul music format ... and buried WENN in the ratings!! Joe Dentici was an engineer for WENN at the time, and was there while it all transpired. Go here for Dentici's recollections about WENN....

A radio landmark ... WVOK on Bessemer Super Highway as the building looked in the '60s. Did you ever pay a visit to the station and have the DJ say your name and tell you, on-air, "thanks for dropping by The Mighty 690"? If you came here hoping to see Joe Rumore, you would've been disappointed; by then he rarely graced the station ... instead doing his show by phone link from his home basement studio!

My grandfather took me out here one Summer day in 1975, and my name got mentioned. I wish a tape of that existed.

Harold Brown has begun a tribute page to The Mighty 690!

Both WVOK and Montgomery sister station WBAM used to sign off with the song "Dixie." And 'VOK carried the Dixie motif as far as their newscast back in the '60s, calling it DIXIE NEWS. The WVOK newsmen used this gussie'd up Ford coupe to get to where news was breaking.......

(courtesy of Todd Jones)

"The Voice of Alabama" WAPI was Birmingham's leading adult 'middle-of-the-road' station, and had several popular personalities, such as Dave Campbell and Ron Carney (right).

In the early '70s, WAPI took out advertisements spotlighting its announcers. "Ron Carney brings you 'the just right sound' for doing your housework or just relaxing on his 'Happy Housewives' Club' from 9:00 A.M. to Noon. News, features and jackpot calls, too! Join Ron every weekday morning."
WJLN-FM, still rocking out at night, changed call letters to WZZK in 1974 -- one might speculate this choice was due to its similiarity to WZZQ, Jackson, Mississippi's legendary progressive rock station (having adopted those calls in 1973; they were formerly WJDX-FM).
In 1976, WBHM-FM 90.3 went on the air as Birmingham's first Public Radio station, and the second in the state (the first was Huntsville's WLRH). It's operated by the University of Alabama at Birmingham.
Also that year, WVOK was in the process of constructing a new FM station, at 99.5. On December 6, 1976, WVOK-FM -- "K-99" -- signed on, bringing to Birmingham its first fulltime 24-hour album rock (AOR) station. And that same day, The Mighty 690 dropped out of the AM rock race to taken on WYDE as a country station.
1977 was the year FM "came to life" in Birmingham. In February, a new transmitter was put online for WERC-FM, increasing its power to the maximum 100,000 watts.
Frank Roberts was the chief engineer who oversaw the transformation of 106.9 in Birmingham. His recollections:
"I remember that morning well, Birmingham had received several inches of fresh snowfall the night before and all the roads had a treacherous coating of black ice, transforming the road up Red Mountain (Vulcan avenue?) into a giant automobile ski jump. I had to abandon my vehicle on Oxmoor Road and hike up the mountain to the transmitter site at the WBRC Channel 6 mansion. As I was warming up the new Transmitter, Dave Hultsman (Technical Director for WERC parent Mooney Broadcasting) showed up, having driven up the mountain in his Willys Jeep.
Sometime during the simulcast Layton and Dearman Morning Show, Doug and Jim counted down from ten to zero, I pressed the transfer button and suddenly WERC-FM could be heard from Montgomery to Huntsville, from Mississippi to the Georgia line. Doug commented on how much louder and cleaner the new signal sounded while Dave and I just glanced at each other and grinned. You see, FM isn't like AM. A stronger signal won't produce a louder program in your car radio speaker. Our Program Director, Frank Giardina (air name Frank Lewis), was an excellent Engineer and knew that we had to do something to make the power increase actually sound like an improvement to the average Birmingham Metro listener. With that in mind, we came up with a plan.
Part of my job was to perform weekly transmitter maintenance at the AM and FM transmitter sites. About two months before the switchover, I began to turn down the modulation a couple of percent during my weekly transmitter visits. Not enough to be audible mind you, just a couple of percent every week. By the time the February 7th switchover rolled around, the old 1950's RCA transmitter was barely making 60 percent modulation and sounding a bit tired. Of course, the new Collins transmitter was set to deliver a much louder 100% modulated FM signal. At the moment of switchover, the loudness difference was startling. Even Doug Layton's ears could hear the difference and that's saying something! I had my wife roll a tape of the event from home. What was the first song to be heard on the new transmitter? I'm glad you asked. It was "Dancing Queen" by ABBA.
I firmly believe that by pressing that button in February of 1977, I had triggered the first step in the inevitable process that saw FM overtake AM as a music medium, at least in the Birmingham market."
Indeed, in August of '77, WERC-FM changed call letters to WKXX. "KICKS 106" was born, and a new staff was brought on board. Kicks at first was a high-energy blend of pop hits and album rock (later to become straight ahead top-40). Birmingham loved it. So much so that KICKS 106 in 1978 not only toppled WSGN ... but also did serious damage to the ratings of its AM sister, WERC! AM hit music radio in Birmingham was close to finished.
Also in 1977, Birmingham got its first stereo FM country station. WZZK flipped from album rock, and from the start was very successful. 104.7 never looked back. At around the same time, WAPI-FM -- faced with the new rock 'n' roll competition -- dropped its automated "adult rock" format and took on WQEZ 96.5 as another "elevator music" station. To be a dentist in the Birmingham area presented a quandry: which station to play in their waiting rooms .... :-)
Finally in the decade, the Brennan family sold WVOK-AM to a Nashville-based broadcaster, and concentrated on their FM station, which became WRKK. K-99 and KICKS 106 were locked in a death match. WSGN and WERC were still battling it out on the AM side, and WAPI-AM was quite the uptempo adult contemporary station. It was a great time to be listening to the radio in Birmingham!
1980-84: A PERIOD OF BIG CHANGE
The decade started with Newhouse shedding its broadcast properties. First, WAPI-TV was sold to Times-Mirror Broadcasting, and the calls changed to WVTM. They also bought the building atop Red Mountain, which meant WAPI Radio had to go househunting. They moved into a nice building on Highland Avenue, several blocks from Five Points South. WAPI-AM 1070 remained a popular adult contemporary station, so nothing changed on that side. The FM, however, was another story. In the Fall of 1981, WAPI-FM kneejerked from muzak to ... AOR! "95-ROCK" brought a live "Superstars"-style album rock station to the Magic City, giving it two AORs for a short time. It's safe to say that there wasn't room in Birmingham for two AOR stations, so one had to go. As 1981 became 1982, 95-ROCK was doing damage to laid-back and automated K-99.
The following year, Newhouse unloaded WAPI-AM & FM to Mobile radio legend Bernie Dittman (who in 1959 bought WABB down there and built it into a top-40 powerhouse). Dittman further molded WAPI-FM / 95-ROCK after his flagship WABB-FM (which called itself 97-ROCK).
August 22, 1982: WRKK blinks. WVOK's parent company buys the station from the Brennans, pairing AM 690 and FM 99.5 once again. They change 99.5 to country -- first, "K-Country" and soon to WQUS "US-99."
Also in 1982, the music in the elevator stops. WQEZ drops muzak and flips to adult contemporary as WMJJ "MAGIC 96." Magic quickly becomes one of Birmingham's top radio stations.
So, what about AM? Both WSGN and WERC were still hanging in with contemporary music, although the writing was clearly on the wall. 1981 saw WSGN adopt a new slogan: "The Station That Grew Up With You" ... and with it a move away from pure top-40. WSGN was becoming an adult contemporary station with a large amount of oldies, although at night it was still quite uptempo. WERC changed its 'positioning' from "96-ERC" to "News Plus, WERC" -- adult contemporary with a heavy news schedule ... a big hint of what was to follow.
WERC went to its present news/talk format in 1982. WSGN, meanwhile, was under siege. WAPI-AM was a long-established adult contemporary station. What's more, MAGIC 96 was putting pressure on both stations. Despite WSGN changing to AM stereo (and one of the first ten stations in the nation to convert), they were sliding. A possibility of 610 going to an all-oldies format was squelched when, in 1982, WYDE beat 'em to it, dropping country in the face of heavy competition from WZZK-FM and WVOK.
WYDE was now "Solid Gold WYDE 85."
February 24, 1984: the day WSGN gave it up. After more than 27 years of contemporary music at 610 on the AM dial, WSGN changed over to MOR/Nostalgia, with music provided by the syndicated tape format Prime Time. It was called "Real Music." It did well, appealing especially to those who were alienated by the loss of easy listening music at 96.5 on the dial two years earlier. Alas, Harte-Hanks Broadcasting, WSGN's then parent company, was ready to bail. Right at 14 months after "real music" debuted, the plug was pulled entirely, and the station sold to WZZK. On April 25, 1985 at 11:57 PM, Glenn Miller's "In the Mood" was the last song ever played on WSGN 610. The next day, it signed on as WZZK-AM, and simulcasting WZZK-FM's country format.
And that same next day, the "real music" and Prime Time tape format took a walk down the dial from 610 to 1070. WAPI-AM dropped adult contemporary and picked up the "real music" where WSGN had left off.
STICK IT TO ME....


WHEN STATIONS COMPETE, YOU WIN

The battle waged between K-99 and KICKS 106 was the stuff of legend. Fans of K-99 went so far as to take a batch of KICKS bumper stickers and from them make the phrase "KICKS SUX."

It was the old WSGN/WERC battle all over again, only this time played out on the FM band ... and with listeners taking part in the guerilla warfare.

Fierce competition, without fail, always results in two extra-good radio stations.



REAL STICKERS

(TOP LEFT) The last bumper sticker WSGN ever had, 1984-85.

(BOTTOM LEFT) Sticker from the "solid gold" era of WYDE, 1983-85. That year, WYDE would change from oldies to all religious.


= = = = = = = = = = = = = = = = = = = = = = = = = = = =

THE VOICE(S) OF ALABAMA, EARLY '80s

(TOP LEFT) WAPI-AM sticker, ca. 1984.

(BOTTOM LEFT) The famous logo for WAPI-FM "95-ROCK" during its AOR period (1981-84), before evolving into a regular top-40 station using the handle "I-95"
1984: WAPI-FM gradually evolved from AOR to regular top-40, and the "95-ROCK" handle was dropped first in favor of "FM 95" and then in the Fall of '84, to I-95: Birmingham's Hit Rock. I-95 and KICKS 106 battled for the top-40 audience for the rest of the decade.
Unfortunately, this would leave B'ham without an AOR rock station for several years.
1985: WQUS 99.5 drops country for "soft hits", becoming WLTB "Lite 99." WYDE goes from oldies to religious. WVOK covers the void, moving from country to oldies -- staying true to the old WVOK, too! Some old '60s-'70s 'VOK jingles begin airing, and reverb was added (reverb is the effect of making the announcer sound as if they're in a large hall -- it was regular practice in the '60s, and made the little transistor radio and car dashtop speakers sound huge).
1987: WCRT-AM, after drifting aimlessly for years, went to an all oldies format, even bringing back former WSGN "good guy" Russ Knight to do a weekly recreation of his old 'SGN show, complete with reverb, old PAMS jingles and the forgotten local Birmingham hits. Over in Dora, AM 1010 WPYK takes a brief stab as an AOR station -- "K-ROCK." It flopped. Not because of lack of demand; WPYK had a crummy signal over Birmingham - few could actually hear it!
12/25/1988: AOR returns to 99.5. WLTB becomes WZRR "Rock 99."
The '90s ushered in wholesale changes to the radio landscape, largely due to increased deregulation and concentration of ownership. This is an historic site, so I won't be documenting ongoing changes to the current-day radio lineup. If you want answers to the perennial "Where are they Now?" question, may I suggest the Birmingham rundown on the website Radio-Locator.com.
I will opine here that Birmingham radio today is little different than that found in most other medium-sized cities ... dozens of stations, all controlled by several large conglomerates. I cannot help but wonder what Joe & Duke Rumore, Jim Taber, Ron Carney and others would think if they were to come back today and scan the dial in Birmingham.
History text written by Russell Wells.
MORE PICTURES, STORIES, AND HISTORY TO COME!
---

Retail | Roadside scenes | Fun & Games | Features | Links | About | Contact Info

This page last updated 01/31/2015 -- 1217 AM EST


Return to main page