"Columbus Took a Chance"
....Joe Dentici on 'the WENN incident'
---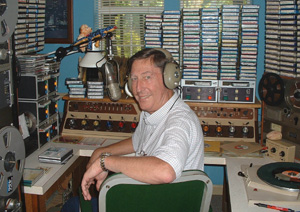 The late Joe Dentici was a radio engineer of legend ... he helped get WENN-FM on the air in 1969, notable as being one of the first black-formatted FM stations in the country. He was also known as Russ Knight on WSGN, and spent years as an engineer for EWTN Radio's shortwave complex in Vandiver. In addition, Dentici was also a much-beloved "pirate" broadcaster, entertaining many in the late '90s with recreations of the classic WSGN 610 from a studio he constructed entirely from refurbished radio gear (the turntable you see in the picture he literally rescued from a trash dumpster in Tuscaloosa!). He built the transmitter he used, and did all the equipment restorations himself. "Russ" truly was the last of a radio engineering breed, and we sadly lost him in 2006.
A couple of years ago, Dentici generously provided this first-person accounting of an upheaval in Birmingham radio in the mid 1970s, something which attracted national attention: an all-black DJ staff walking out in protest of the firing of a white station manager! -Webmaster
= = = = =
I was a part of the firing of WENN's white manager. His name is Joe Lackey and is to this day one of my closest friends. I have never in 40 years of broadcasting been around a man of such genius. A close second would be Ben McKinnon at WSGN. Men like these are rare.
Negro Radio or Ebony Radio as it was called back then was a different animal and Joe Lackey understood this. He treated his people with respect and in return earned theirs. I know because after graduating college in 1969, I went to work for McClendon Broadcasting based out of Jackson Mississippi who owned WENN and twelve other Negro oriented stations in the South and in Costa Rica. My job was to build 107.7 WENN FM and I'd have a full time job.
The FM was the first station at the time to have live talent 24 hours a day. I worked 10 PM to 5 AM, having Tuesday and Wednesday off. The Chief Engineer was Carl Martens who became a father figure to me. In 1975 Carl retired and expressed his desire that I be named Chief Engineer of WENN AM-FM. Joe Lackey discussed this with the head office and came to me with the offer. At first I declined because I was afraid that I could not fill Carl's shoes. I remember Joe Lackey coming to me with Carl assuring me that I was ready and to give them a decision no later than the next day.
My Father who was still alive at the time told me to do it. My Father was a Civil Engineer and had kept a close watch on me even though he had desired that I follow him in the Construction Industry. We talked a good bit and I told him of my fear. He then took my arm and said "Son, Columbus took a chance" and that's all there is to it. I took the job. Managing six other Engineers and being Corporate turned me into a man.
Carl Martens, six months into retirement, had a stroke and died soon after that. In 1976 I believe, it wasn't long after that John Maclendon died and as part of his will all broadcast properties were to be sold and the funds put in a trust for his family. WENN-AM/FM was sold to a man from Atlanta who had a station there. For the life of me I can not remember his name but WENN was very successful and it supported his desire to continue to buy other broadcast properties. This lead to receivership and the courts appointed an overseer.
Now comes the good part. During this time nothing could be purchased without permission of the overseer. Over a period of time, this man saw how well Joe Lackey managed the station and his relationship with his staff. His views became less stringent. He was so impressed with how WENN was managed. He realized that we had kept the other properties afloat so what I consider a "first" happened. The overseer went on a trip to Europe with his family and gave Joe Lackey control of the daily operations of WENN during his absence. My father told me that just does not happen, but it did.
Joe Lackey came up with a plan for all of us to buy WENN. That included the sales force, announcers, and myself. The station was doing very well but the loan amount was more than the physical assets were worth. The banks wanted to help, but being conservative in nature, they would not give us the loan. We could have paid it all back in 10 years. First National suggested that we aproach Citizens Federal, owned by multi millionare A.G. Gaston.
The black employees did not like this at all because they considered him less than honest. Gaston sent down his Vice President, Louis J.Willie, to go over the books. They liked what they saw and bought the station out from under us. That was the last straw.
The announcing staff at that time were:
Tall Paul White
Erskine Faush
Shelly "The Playboy" Stewart
Maurice "Thin Man" King
Pat Williams
Weldon Clark
Each employee met with either A.G. Gaston or Louis Willie. None, not one person wanted to stay with this group. Efforts to buy the station for us failed and a little after 7AM, Tall Paul -- who had huge ratings -- read a statement about what was going on in truth to the audience. When he finished, I shut down the AM on 1320 and the FM at 107.7, went to the secret electrical switch shutting down any connections to the remote controls and we all walked out.
This made national news as ABC, NBC and CBS came to Birmingham as blacks went on strike and quit their jobs over a white man. No one could believe it. Somewhere I have a picture taken by Chris McNair of all of us in front of the WENN studios right after shutdown. Chris McNair as you may remember, lost his daughter in the 16th Street Church bombing.
Joe Lackey and myself started searching for answers as for what to do. We had an entire radio station out on the streets. During this time Joe Lackey paid each of us out of his own personal savings. I had come from a comfortable family and my Dad helped me, but the announcers were another story. To the best of my knowledge this lasted for about three or four months.
Some investors out of Fort Worth Texas had bought a daytime 1000-watt station on 900 kilocycles which was located on the 20th floor of the Thomas Jefferson Hotel (later the Cabana Hotel). News of what had happened in Birmingham was all over the broadcast world and Joe Lackey was contacted by them to manage WATV. He could do anything he thought would work ... except go Black. He refused.
In this day and time this won't seem like a big deal but in the early 70's it was unheard of. Many times we were called "ni**er lovers" ... just came with the times. Joe Lackey countered their offer with what I consider the most brilliant idea of the day. WATV could not pay its own power bill. It was a failure in every way. Joe Lackey made this offer: let me take my entire staff to WATV for 90 days. I will pay my people myself and if in 90 days it's no better, we will just walk away and you can do with it what you want. They finally agreed. In life there are some points that you wish did not have to happen, but they do and that was the WATV staff had to go.
I knew the Chief Engineer and this was rough on me as well. WATV was automated with some live talk. The turntables were in the bathroom tub in the hotel room, the console was a 1954 Gates Dulux, the Transmitter was a Gates BC1-E made in 1949. This place was a museum. I did not think it could hold up to what we were going to do. Joe Lackey just smiled and told me, "I have faith in you, Joe". WATV signed off the air at 6 PM and was to return with a different format at 6 AM. I am glad I was a young man because what had to happen in 12 hours was nothing short of a miracle. I had finished putting what we had together with the WATV Engineer and at 5:30 started preparing to go on the air. Tall Paul was there and very nervous as he did like being 20 stories above the ground.
I can still remember walking into the studio that morning and handing him a copy of Maxine Nightingales "Right Back Where We Started From." At 6 AM all hell broke loose as what we were doing had been in every newspaper and TV newscast for a week. Paul's theme was Annette's "Tall Paul Song." The theme started and the phone lines -- and there were six which rolled over -- lit up, the hotel was swarmed by listeners and South Cental Bell's 326 exchange shut down due to overload. We were in the middle of a rating period and when the Arbitron came out, WATV was number one. Every station in the three county area demanded a new survey as this could not be true. Arbitron re-did the survey and WATV was a bigger number one than before.
Not bad for a daytime kilowatt at 900 kc. Joe Lackey told us all in a staff meeting that what we had done was due to the fact that we all worked as a family. Each one of us was a link in a very strong chain. If the chain had broken by one or more giving up this would have never happened. The investors, banks and others never saw what was so crystal clear: a radio station is its people, that's what made us great.
The hotel made us move and we found a building on Ensley Avenue to be our new home. WATV is still there today and is now owned by Shelly Stewart and Erskine Faush. WATV made radio history over again as the first black AM Stereo station in 1982. Frank Giardina put WSGN in Stereo three weeks before I did WATV. As the station was able, a state of the art studio and transmitter facility was built.
My Daddy was right... "Columbus took a chance."
-Joe Dentici a/k/a Russ Knight
February 18, 2005
---
RETURN TO BIRMINGHAM REWOUND: RADIO-TV, part 2
01/14/2007 -- 324 PM EST