SOME HISTORY OF BIRMINGHAM TV......
| | |
| --- | --- |
| One of the first ID slides for Channel 13, 1949. | ca. 1953 matchbook cover from the short period between Storer's purchase of WBRC and the change to CBS. |
| Election night 1952 on WBRC-TV. Here we see the high-tech "white chalk on blackboard" graphics at work. Loveman's Department Store sponsored this broadcast, and to the left of Loveman's script logo is "NBC - Channel 4" Two months later, WBRC-TV moved to its present location, Channel 6. (courtesy of the Bill Bolen collection) | Channel 13 had a showy remote truck in the mid '50s, complete with NBC logo. I gotta wonder how secure those big numerals were. I'd hate to be on the highway only to have one break off and head toward my windshield. How would that look on the coroner's report? "Cause of death: impaling by a giant '1'" (courtesy of Tim Hollis) |
Television first came to Birmingham in 1949, when the city became home to not one but TWO stations. The first was put on the air by "The Voice of Alabama", WAPI radio. Channel 13, WAFM-TV (named after WAPI's FM station) was the first in Alabama to begin broadcasting. Soon afterward, WBRC radio launched its TV station on July 4th, in the building on Red Mountain once occupied by its defunct FM station. WBRC-TV initially began broadcasting on channel 4, but in the early '50s would move to its present home, channel 6. This was due to interference in north Alabama with WSM-TV in Nashville, also on channel 4.
Initially, WAFM-TV 13 was affiliated with CBS (as was the radio parent, WAPI). WBRC-TV 4, like its radio station, was part of NBC. Some ABC programming aired on channel 13. Programs from the DuMont Network, such as Captain Video, were seen on channel 6.
The mansion on the hill...

WBRC's stately home atop Red Mountain, as shown in this 1954 photo. It was built to the specs of then owner Storer Broadcasting. The white building behind it is the old facility ... it originally was built for the short-lived WBRC-FM in the late '40s.

Today, this spectacle in architecture continues to house WBRC "Fox 6" in the present day.

Behind it all is the huge red "WBRC" sign which still serves as a landmark atop the mountain.
(courtesy of Tim Hollis)
In the very beginning, all programming was local, with network programs coming in via film. It would be several years before both 4 and 13 "got on the cable" -- that is, Birmingham becoming linked to the network lines from CBS and NBC. ABC, still a weak and struggling network, continued to deliver some network offerings via kinescope (a method in which a live video image could quickly be converted to film for later rebroadcast or for archiving).
In 1953, WBRC-TV -- now on channel 6 -- was bought by Storer Broadcasting, which built a beautiful mansion-like structure atop Red Mountain (this was because of Storer's reputation of "elegance" and "first class facilities"). A year later, WBRC signed an affiliation agreement with CBS. NBC programming moved over to channel 13 (which had just changed its call letters to WABT ...Alabama's Best in Television), and channel 6 was now Birmingham's outlet for CBS. If you're following along, this would be the second network for channel 6. This gets important later.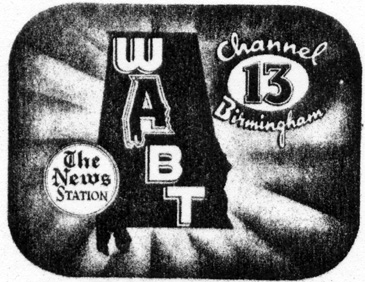 ...Mid '50s logo for WABT channel 13. Due to a series of ownership changes in the early '50s, The Birmingham News no longer owned WSGN and was now co-owned with WAPI-WAFM-WABT ... hence the newspaper reference.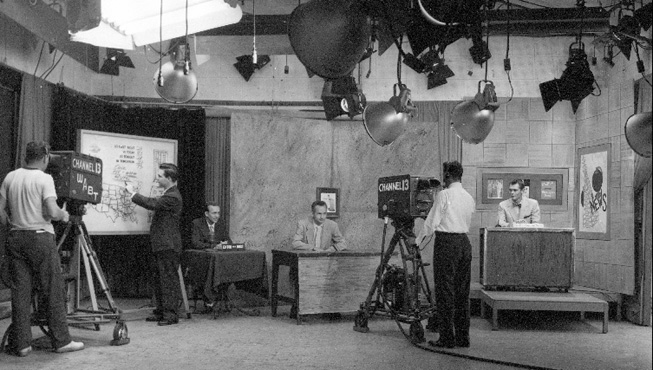 A great full-set shot of WABT-TV's newscast in 1954. This has the early makings of the current-day "news team" concept!
The second guy from the left has a desk plate reading "EDITOR and HOST"; the desk on the right suggests a synergy with The Birmingham News, owned by Channel 13 parent Newhouse. On the wall behind him is a sign reading "Photos courtesy The Birmingham News"
And check out those humongous lights! Early TV studios were quite the sweatbox back then.
(courtesy of Tim Hollis)
In the mid '50s, an attempt was made to launch a third television station. The owners of WSGN applied for channel 42, and tried to compete. Herb Coleman, former engineer at WBMG-TV, recalled, "Bill Dubois, a Chicago film salesman, heard the channel was open and came to Birmingham to strike up a deal with the owners of WSGN to put the station on the air. Papa Doobee, as we called him, was a great guy. I was working for James W. Clary Co., a wholesale radio and TV parts store, at the time. We had never sold UHF converters or antennas for any other station until WBMG went on the air. When they hit the air we sold them like hot cakes. I went to work for TV-42 in January of 1971 and remained there until November of 1991."
A curious side note to the ill-fated WSGN-TV attempt: a deal was attempted with WCBI-TV in Columbus, Miss. for them to give up their current Channel 4 assignment (given to them after WBRC-TV moved to Channel 6 in 1953) and move 4 back to Birmingham! That fell through, and after selling the construction permit to Johnston Broadcasting, licensee of WJLD-AM & WJLN-FM radio, and taking on the provisional callsign WJLN-TV, the effort died. Birmingham would continue with its two commercial stations, 6 and 13.
Meanwhile, Storer Broadcasting, in a grand gesture, donated equipment and transmitting facilities for an educational television station. From that act of generosity begat WTIQ channel 7 (now WCIQ), atop Mount Cheaha east of Birmingham. Then came WBIQ channel 10 in Birmingham. These two stations interconnected formed Alabama ETV, the very first educational/public TV network in the country! To this day, all statewide and regional Public TV systems use the Alabama model.
1957 was a year in which several local television programs and personalities began long stretches of popularity and acclaim. WBRC-TV debuted two early-morning shows: Country Boy Eddy, with country crooner Eddy Burns, and The Morning Show, hosted by a young guy named Tom York. Both were on the air for over three decades; Tom York's show even set a record for the longest-running local morning program. Country Boy Eddy's show was a hangout for many aspiring country musicians, including a local beautician with a crazy dream ... one Tammy Wynette, rest her soul.
Next door at channel 13, Cliff Holman was coming off of a short-lived tenure with his first program, Tip Top Clubhouse (sponsored by Tip Top Bread), and began to settle in as the host of Cartoon Clubhouse. His entry into TV earned him a nickname that remains with him today: Cousin Cliff. Cartoon Clubhouse evolved into 13's wildly successful afternoon "kiddie show" of the 1960s featuring Cliff, Popeye and The Three Stooges. Birmingham-based author Tim Hollis wrote a throrough history of Cliff Holman's career in television ..... Cousin Cliff: 40 Magical Years in Television (Campbell's Publishing, 1991). For more information about this book, shoot an e-mail to Tim. (be sure to replace the words "at" and "dot" with their proper symbols before hitting 'send')
Also in the late '50s, Storer Broadcasting sold WBRC radio and TV to Taft Broadcasting Company out of Cincinnati, Ohio.
1957 advert for The Morning Show. Tom York is the guy seated, and in standard "civvie" attire. Behind Tom is the Jerry Woodard Band - with Bobby Mizzell at far left and Jerry Woodard next to him. According to Dave Culberson (who provided this info - thanks, by the way), Woodard's band played at Pappy's Club and at the Allstate Club on Highway 78 west.
(picture courtesy of Bill Bolen)
1955: Cousin Cliff Holman's first TV show on channel 13! Pictured with Cliff were puppet "co-stars" Kim & Corky.
(courtesy of Tim Hollis; from the collection of Cliff Holman)
The early 1960s brought with it a time of turbulence for Birmingham, and local television acted somewhat on what was going on around them. WBRC-TV was affiliated with CBS, the #1 network at the time. In spite of this, channel 6 dropped CBS, and signed an affiliation agreement with ABC, effective March 1, 1961 ... marking the third network affiliation for the station (as I said, this will be relevant later).
Channel 6's move was quite surprising; ABC was a substantially weak third network and had very few hit shows on its schedule. The station cast aside the security of CBS to align exclusively with a network that truly was the UPN or WB of its day. The reason is due to a massive realignment of stations in WBRC's parent company, Taft Broadcasting, to ABC. The head of Taft had a close friendship with Len Goldenson, the Chairman of ABC ... and this change amounted to a tremendous vote of confidence to a struggling, last-place ABC..
Rumors abounded about another reason: in May 1961, Howard K. Smith's controversial documentary Who Speaks For Birmingham? led to his being fired from CBS (he would later join ABC), and didn't exactly win friends and influence people in this area. But the Channel 6 defection from ABC was unconnected with this documentary. It aired in May; WBRC-TV's affiliation agreement with ABC was signed and dated March 1, 1961, more than two months prior to the documentary.
| | |
| --- | --- |
| (photo courtesy of Greg Glenn) | (from the WCOV-TV Engineering page) |
"YOUR CLEAR PICTURE STATION": One truck, two networks. LEFT is a picture of WBRC's remote truck, circa 1958. Note the CBS eye in the middle of the "6". RIGHT is the same truck in about 1962, after the change to ABC. Now instead of an eye, there's the ABC logo (it resembles what would become the network's current logo; at that point, the letters "abc" appeared in a giant lower-case A). I like the "6"s painted around the headlights, although I think Taft could've done without that other 6 above the grille. I don't know about you, but I wouldn't feel comfortable being followed by a truck with what looks like "666" on the front! :-/
LEFT: 1959 ad for The Morning Show from TV GUIDE.

RIGHT: From 1962, another Channel 6 advert touting its "parade of stars." Remember Marynell, the "movie girl"?

MEANWHILE, ON CHANNEL 10: What is probably one of the earliest known pictures of an Alabama ETV production, this comes to us courtesy of Howard Cruse. Grady Clarkson (left) and Howard (right) interact with "Magical Mitch." The Grady & Howard Show was a live production on flagship WBIQ-TV in the Summer of 1963, part of a rotating series called Magic Carpet.
As 1961 ended, WBRC-TV was now a sole ABC affiliate, leaving channel 13 (which had switched calls - again! - to WAPI-TV in 1958) to juggle NBC and CBS. While ABC now had the incredible advantage of one of the most powerful stations and biggest coverage areas in the South through channel 6, it was a tight squeeze for WAPI-TV to shoehorn programs on the two biggest networks onto its schedule. As a result, in the 1961-66 period, a great amount of network programs -- some of them mega-hits -- were not seen in Birmingham, including The Ed Sullivan Show. That's right, if you were a Beatles fan counting the minutes and seconds 'till their American debut, you were shoot-out-of-luck if you lived in Birmingham ... unless you knew somebody with one mean antenna to point toward Huntsville, Montgomery or Atlanta. In the area of network news, 13 strongly favored NBC ... and when CBS and NBC both expanded their newscasts from 15 minutes to 30, 13 went with NBC's only -- so for a couple of years, Uncle Walt wasn't seen in Birmingham.
1965: Another attempt at putting a third commercial TV station on the air pays off. Late that year, Birmingham gets its third commercial TV station with the debut of WBMG-TV channel 42. Curiously, it's part-owned by Southern Broadcasting, parent company of WSGN (I wonder why the station didn't adopt WSGN-TV -- borrowing on a familiar, proven and successful callsign). At the onset, Channel 42 was an independent station, later to become secondary affiliated with NBC and CBS ... basically picking up the shows channel 13 didn't air. WBMG's arrival meant CBS' newscasts could be watched again, and Johnny Carson would be available in The Magic City (which 13 didn't carry, either).
42's star attractions at the onset were WSGN newsman Bill Bolen, who made the move from radio to television ... and WSGN "Good Guy" Neal Miller. Neal was sworn in as a Jefferson County deputy, donned a legal sheriff's uniform and became kiddie show icon Sergeant Jack, named after local fast-food mainstay Jack's Hamburgers.

Today, the "NBC-13" logo is painted as a giant mural on this side of the building, but once upon a time WAPI had a huge neon sign of its own, visible atop the mountain from both sides ... much like WBRC's famous neon letters. (Courtesy of Tim Hollis)

Here's the WAPI-TV complex on Red Mountain as it was seen in this aerial shot dated February 24, 1962. Some apartments on Valley Ave. are visible in the background.
(courtesy of Bill Bolen)
COLOR, COLOR, WHO'S GOT THE COLOR??
Color TV arrived in increments -- it didn't require a great deal of modification to a television transmitter for "pass through" color -- that is, to have the ability to broadcast in color those network programs offered that way. Prior to 1965, the only color programs seen on Birmingham TV were network shows (and 90% of that was NBC -- CBS had very little color prior to that time, and ABC was still mostly black & white).
To broadcast local content in full color required three things: First, a color film chain (projection and slide equipment with 'multiplexer' to convert the film image to one able to be broadcast as a TV signal) to render moving and still images in color -- standard slides were used mostly for TV station IDs and program titles. But most importantly, a TV station needed COLOR CAMERAS! And those were 1) huge, and 2) expensive. Not only that, but color cameras required substantially more lighting than the advanced B/W cameras in the '60s. That meant entire TV studios had to be redone in order to originate colorcasts -- itself a costly proposition.
Oh yeah, there was also the matter of repainting backdrops. If a show was telecast in black and white, there was no need for the tedium (or expense!) of using color paint for backgrounds, right? Remember that nautical painting one saw behind Cousin Cliff on his 1960s WAPI-TV show? If you were a visitor to the program back in the day, you might've been startled by what you saw: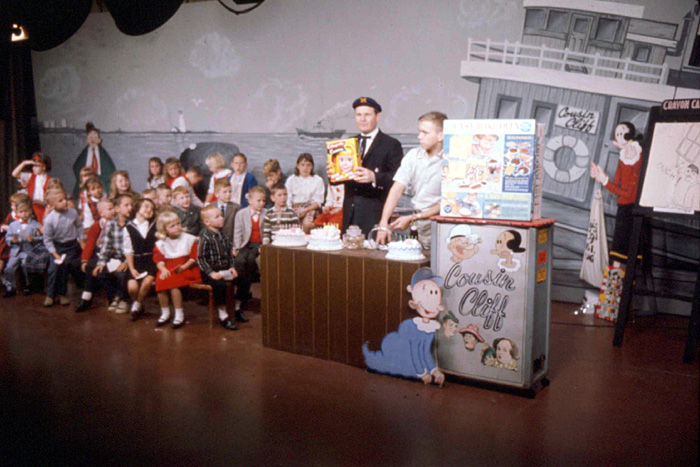 The famous Cousin Cliff set, prior to April 1967. That magnificent painting (done by Cliff's father, who was WAPI's art director) was done purely in shades of gray. This was the most efficient way to produce backgrounds for B/W broadcasts ... but gave many an art department a nightmare workload when a station converted to color!
Astronomical expenses kept most stations outside the largest cities from going color earlier than they did. Heck, some were probably still paying off the debts incurred for the original B/W equipment in the '50s!! But when one station in a market took the plunge, it put intense pressure on the others to follow suit.
Go here if you're interested in seeing just how gigantic those early RCA color TV cameras were!
Amazingly, the first TV station in Alabama to acquire color cameras was not in Birmingham, as one might imagine. That honor went to a Montgomery station: WCOV-TV, Channel 20 ... its chief engineer maintains a fantastic historical page on the station's website, including some vintage slides, and pictures of their early color cameras.
So, which Birmingham station was first with color? It depends on how you define the word "is" ... heh heh, sorry. I mean, it all boils down to how one defines "first." WBMG-TV 42, according to its longtime engineer Herb Coleman, had a brand new color film chain when it signed on in 1965 -- Mr. Coleman said, "We had the first color film chain in Birmingham. We could run color films and color slides but had black and white cameras which were cast offs from channel 6." (the original chief engineer of channel 42 used to work at channel 6)
So, 42 was first with local color images. Now, on its history page WBRC-TV boasts being the first station in Birmingham to broadcast a local color program, The Bear Bryant Show, in 1966. However, that year Bear's program - Golden Flake chips, Coca-Cola and all - originated at the studios of WCOV-TV and relayed statewide (as was Auburn's football program, which also originated in Montgomery ... at WSFA-TV, channel 12).
The final answer, Regis? Channel 13! On April 3, 1967, WAPI-TV put its new color cameras and color film chain into use, and became Birmingham's first full-color TV station.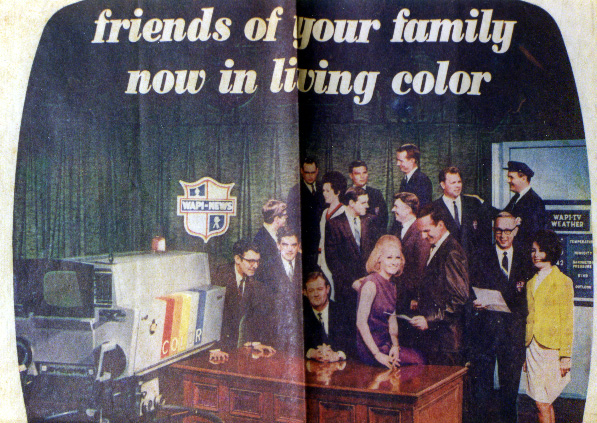 Bye bye, Black & White! April 1967: WAPI-TV goes color, heralding the big changeover in a full-page ad in The Birmingham News. Recognize any faces here? You know Cousin Cliff. Remember Wendell Harris? Mid-Day hostess and "weather girl" Rosemary Lucas?
"Miss Jane" Hooper of Romper Room? Buddy Rutledge ... Dick Breit ... the list goes on.

The famous 'shield' logo for WAPI News was another creation of Cousin Cliff's father.
(courtesy of Greg Glenn)
By the late '60s, Birmingham television was still a crazy hodgepodge of "musical networks" -- channel 6 had ABC all to itself, but 13 and 42 shared NBC and CBS programming. Well, to be more accurate, 13 cherry-picked (usually the highest-rated) programs from both networks, leaving 42 with the 'table scraps.' A situation not corrected until May 31, 1970 ... on that date, Birmingham television finally settled to a one-station/one-network arrangement! WAPI-TV chose to go exclusively with NBC (longtime 13 exec Everett Holle said this was mainly because parent company Newhouse's flagship TV station was an NBC affiliate ... plus, the CEO of Newhouse was said to have loathed CBS chief William S. Paley!). So, by default, 42 inked an agreement with CBS.
If anything, this made it easier for Birmingham viewers to FIND their favorite network shows!
| | |
| --- | --- |
| | |
| "AN EYE-FULL OF ENTERTAINMENT" .... after years of settling for "sloppy seconds" from 13, Channel 42 starts "going steady" with CBS. A TV Guide advert makes it known. (The drawing in this ad is by Howard Cruse, who worked as a puppeteer on The Sgt. Jack Show. Howard has generously offered some Birmingham photos from his own archive, so keep a CBS-eye out for those on this site!!) | 1971 advertisement for Channel 42, in the midst of Birmingham's centennial celebration ... touting its "new, modern studio and office building" (from Tim Hollis) |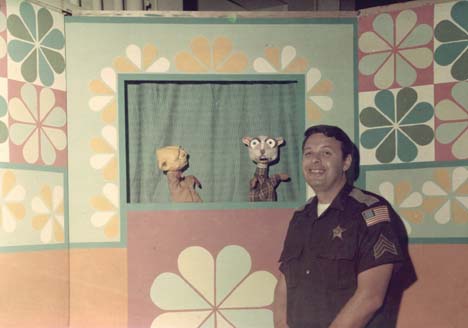 THE SARGE...
After Cousin Cliff Holman left for Anniston, and Benny Carle headed north to Huntsville, Neal Miller was the last man standing as Sergeant Jack on WBMG (yes, he was named for the fast food entity). Nobody who watched this show in the '70s forgot the set. Lord, that set! It matched the 1969-era To Tell the Truth for its loud, colorful psychedelic feel.
The puppets, you may remember, were named Oscar (left) and Wilbur. They were operated and voiced by Howard Cruse, who also served as Channel 42's art director. Sergeant Jack contined throughout the 1970s, and was on the air until 1982.
Howard Cruse soon left Birmingham for the bright lights of New York. Today he's an accomplished cartoonist. Samples of Howard's work today may be found on his personal website. [ADVISORY : If you have a low tolerance for irreverent comic art aimed at mature audiences, you may want to steer clear of Howard's 'underground'-flavored site.
---

The 1970s brought with it a highly competitive approach to TV news. WBRC took a dominant position with their 'news team'........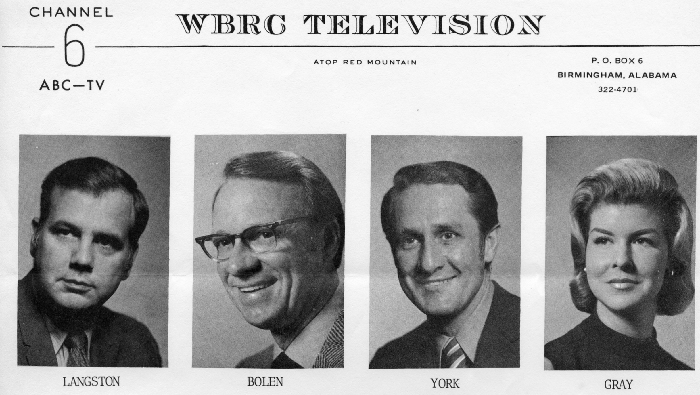 ca. 1969: Bill Bolen was the newest member of the Channel 6 team.
(L-R) Joe Langston, Bill Bolen, Tom York, Pat Gray.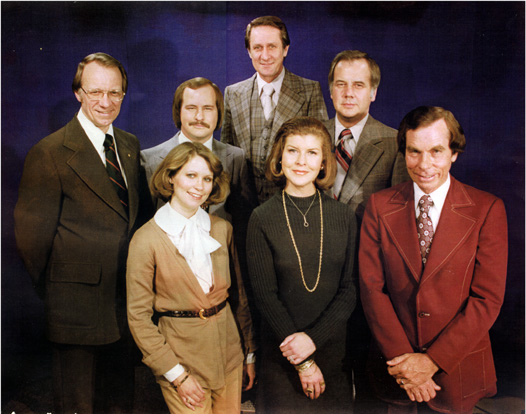 "The Six Family", mid '70s: Lapels stretching from "The Club" over to Vulcan.
FRONT ROW: Donna Hamilton, Pat Gray, "Country Boy Eddy" Burns;
BACK ROW: Bill Bolen, Herb Winches, Tom York, Joe Langston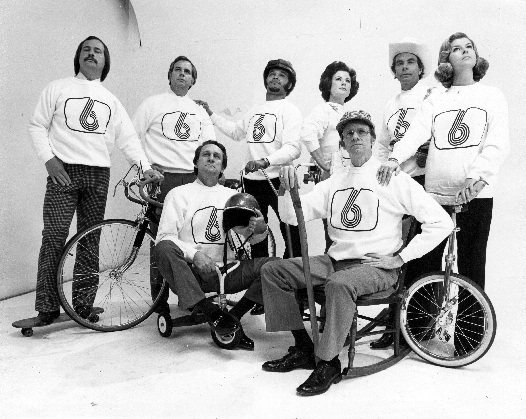 I'd like to know if they tried riding those bikes up Red Mountain....
SPECIAL THANKS TO BILL BOLEN FOR THESE WONDERFUL PICTURES!
Channel 42 also had a newscast. I heard that -- stop laughing, at least give 'em half-credit for TRYING.....

Former Pop Crooner/WSGN Swingin' Southern Gentleman/WAQY Beatle Burner/soon-to-be 1/2 of "TC & John Ed" TOMMY CHARLES, back when he was trying his hand at TV sports in 1974. It got to where 42's news was more of a comedy show than a straight newscast; legend has it he'd often wad up scripts and throw them after reading ... and one evening he supposedly let loose with balloons for no particular reason. It must've been fun to watch ... that is if anybody outside of management and crew were watching.
In 1980, Parent company Newhouse sold WAPI-TV to Times-Mirror ... and Channel 13 changed calls to its fourth, and present, set of letters: WVTM (it stands for Vulcan Times Mirror). Promotional adverts soon filled the schedule: "Have you seen The New 13?"
1982: Birmingham got a new television station, WTTO Channel 21 (the calls stand for Television Twenty One). If one doesn't count 42's earliest years in the mid '60s, WTTO was Birmingham's first "independent" station. For years I was under the mistaken impression that 21 was the first station in the city to affiliate with the new FOX network in 1986. Charles Collins of Helena, Ala. set me straight, and generously offered a thorough background on the Magic City area "indies"...........
BIRMINGHAM INDEPENDENT TV (Charles Collins)
Actually, WTTO was not the first station in Birmingham to affiliate with the Fox network. That honor goes to WDBB-17. During the mid '80's Channel 17, who originally signed on as an independent targeting Tuscaloosa, tried to become the second independent station in the Birmingham market, erecting a tall tower near the Jefferson-Tuscaloosa county line and getting included on all the cable systems in Jefferson and Shelby Counties.
If I remember correctly, Channel 17 spent tons of money on first run syndicated programming, picked up daytime network programs not cleared by Channel 6, and attempted to launch a 9:00 p.m. newscast. The newscast didn't last that long. Primarily because of signal interference from the mountains in the Birmingham area (cable penetration then wasn't what it is now), people living east of downtown couldn't pick up Channel 17 that well. It was about at that time that WNAL-44 signed on in Gadsden as a repeater of WDBB. I think, though, that Channel 44's original tower was located too far away from Birmingham to cover anything except for the extreme eastern area of Jefferson County.
Desperate to attract viewers, since Channel 21 had quickly established themselves as the local alternative to Channels 6, 13 and 42, WDBB-17/WNAL-44 aligned themselves with Fox, and carried the ill-fated Late Show with Joan Rivers when it debuted on Fox in 1986. They remained the Birmingham area's Fox stations until WDBB threw in the towel in '91 and returned to broadcasting from their original tower in Tuscaloosa. It was then that Channel 21 became a temporary parent station for both Channel 17 and 44. If I remember correctly, all three stations broadcast the exact same schedule from sign-on to sign-off for about a year or so.
After a while, Channels 17 and 44, who were both still Fox affiliates, began broadcasting separate schedules. Both stations remained Fox affiliates until the "Big Switch" in '96. After the switch, Channel 44 became the new home for CBS in the Gadsden-Anniston market until '98, when it moved to its present tower in St. Clair County and became Birmingham's PAX affiliate as WPXH-44. Like Channel 21, Channel 17 spent a brief time as an independent station after the switch. Both stations affiliated with the WB network in '97, and by '98, WDBB was once again reduced to being a full-time repeater of WTTO-21.
By the way -- if you ever want to add some more comedy about a tragic station, don't forget to include some bits about the early days of Channel 68. When it signed on as WCAJ, its studios were on the campus of Samford University, ostensibly as a "family" station with a mixture of squeaky clean secular programming and some Christian programming. Before it settled into its current niche, it tried broadcasting only Christian programming, then home shopping, then Christian programming again.
AND TODAY.........
A big shuffle took place with ownership changes in the mid '90s. NBC bought Channel 13 outright, changing the logo and image to the present "NBC 13." Around the same time, New World bought WBRC-TV from Great American Radio & TV (the successor company to Taft). Fox then bought New World. As expected, 6 dropped ABC and in September 1996 became a full FOX affiliate.
And HERE is where the network issue with Channel 6 becomes important. WBRC-TV began in 1949 as an NBC station. In 1954, it changed to CBS. Then to ABC in 1961. And finally to FOX in 1996. Four networks. To my knowledge, WBRC-TV Channel 6 is the only station in the country to have been affiliated with ALL FOUR MAJOR NETWORKS throughout its 50+ year history!!

The biggest event in the last decade was the creation of a brand-new TV station in 1996. Albritton Communications bought the licenses for WCFT-TV 33 in Tuscaloosa and WJSU-TV 40 in Anniston, folding both into Birmingham, dropping their respective CBS affiliations, and from the ground up created an entirely new ABC affiliate for the market, known as "Alabama's ABC 33/40." To add insult to injury, 33/40 -- with an upstart newscast -- surged ahead of Channel 42 to breathe down 6 and 13's necks. Ouch.
WBMG-TV 42 was bought by Media General, and in 1998 changed her call letters to WIAT (It's About Time), and calls itself CBS 42. An entirely different news product was debuted, but Media General -- with successful properties in other markets (including my backyard) -- had an uphill battle with Channel 42. For decades, the number 42 was a punchline -- a cursed number in the Magic City. However, CBS 42 has made substantial gains in their newscast's ratings, and according to Larry Ragan, CBS 42's News Director, the station has begun posting some #1 ratings for key newscasts ... and, for the first time, truly competitive with the long-established WBRC and WVTM. Birmingham, Alabama may well be one of the hottest local markets in America in regard to the number of stations with successful newscasts.
And in 2006, NBC sold WVTM "NBC 13" to Media General ... the parent company of WIAT "CBS 42." As a result, WIAT was spun off to a new owner, New Vision Television.
So that's where we stand in the present day. 6 and 13 continue to prosper amidst a landscape with more competition. 33/40 is a formidable news presence ... and 42, at long last, is holding its own!
There's no better place to turn on the TV than in Birmingham.
Text by webmaster Russell Wells
| | |
| --- | --- |
| 1978 | Today |
EVERYTHING OLD IS NEW AGAIN ... the logo for channel 13 has gone through several different looks over the years, but the present design is a nice throwback to an earlier time; the typeface used here is very close to the helvetica font which 13 used in the 1976-78 time period.
THIS SECTION IS FAR FROM COMPLETE .... THERE WILL BE MORE PICTURES, STORIES, AND HISTORY YET TO COME.
---

Retail | Roadside scenes | Fun & Games | Features | Links | About | Contact Info

This page last updated 01/31/2015 -- 1219 AM EST

Return to main page