Pizitz at Five Points West:
Birmingham's original "dead mall" (updated 04/22/2008)
---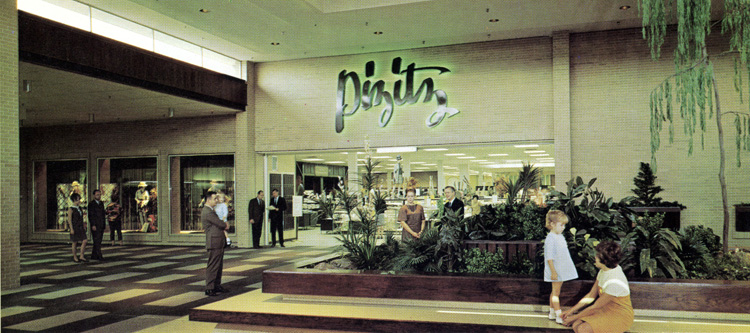 In its 1970s heyday ... Five Points West Mall, Pizitz, Earthtones and you!
In 1968, Farm Bureau opened an indoor "mini-mall" behind the south strip at Five Points West. This was in reaction to Eastwood Mall's enormous popularity, although I'm sure the construction of Western Hills Mall, located just down Bessemer Super Highway, must've played some role. Western Hills would open in 1969.
The apartments visible in the 1965 pictures on the Five Points West page were leveled to make room for this extension (they too were owned by Farm Bureau) ... and in its place a Pizitz department store was constructed as the anchor of the new mall portion of Five Points West. Both it and the mall were elevated, with an enclosed parking lot on the ground floor.
Access to the indoor portion was gained through a stairwell in Pizitz and toward the west end of the mall, an escalator from the street level, and through the original strip around where the Woolworth is in the '65 photo. Visitor Glenn Cox clarified this, saying, "Actually, the entrance to the mall part was to the right of W.T. Grant as you faced the store from the street (Woolworth's was to the left of Grants). When they put the mall entrance in, they cut a door from Grant's into the mall to make a second entrance." Cox, who worked at the Grant's store in the late '60s, added, "The store manager used to get me to park the popcorn cart right at that door so we could lure in the mall shoppers."
Later a parking garage was added across 47th Street-Ensley, and an overhead crosswalk was added connecting it to the Pizitz.
Among the tenants in this portion was a radio station. Black-formatted WBUL-AM 1220 ("The Bull") broadcast from this location during much of the 1970s.
At some point in the early '80s, the Pizitz store was vacated ... and soon the mall portion was closed down.
For more than 20 years the property sat in a rotting state, and in 2008 the area was (finally) demolished. Only the old parking deck remains.
The old property as it looked until recently made for one project of urban exploration. While I was in Birmingham for a long weekend early in 2005, I took some pictures of what existed on that site.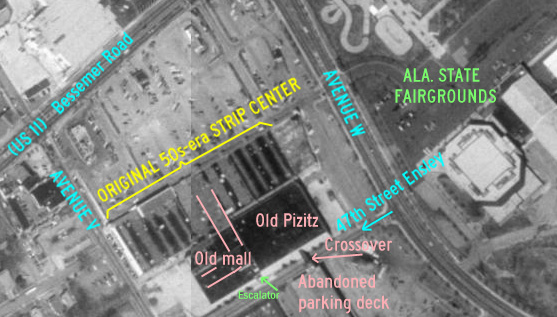 Here is some orientation (satellite image from Microsoft Terraserver) ... this is looking due north.
[The 1965 pictures on the Five Points West page show this strip looking from the northwest].

---