Sherer's Drive-In
(updated 03/24/2009)
---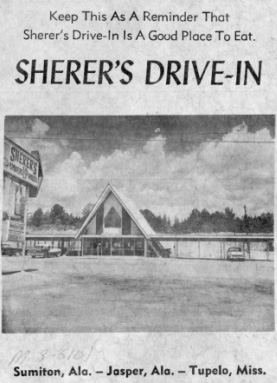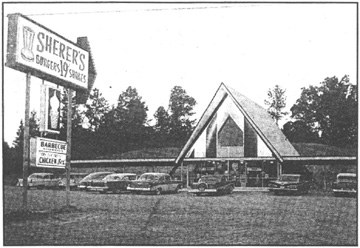 ---
SHERER'S DRIVE-IN first opened in 1959 on the new US 78 bypass around Jasper, Ala. It quickly became the quintessential Friday/Saturday night hangout for Walker County teens. By the mid '60s, two other locations had opened: on US 78 in Sumiton, Ala. (east Walker County), and on US 45 (N. Gloster Street) in Tupelo, Miss. All had the distinctive A-frame with "wings" for car stalls. The big window on the A-frame was another Sherer's trademark, and at the flagship Jasper location, that upstairs room housed an auxiliary studio for local radio station WWWB. Perched in his little studio overlooking the Sherer's parking lot and Highway 78 out front was star DJ "Johny Mack" (McPoland) ... his two famous catch phrases were "Swamp Angels", his name for all the ladies, and his immortal greeting: "Toodle-Loo!"

Toodle-Loo to the Swamp Angels in the red Dodge on 78!

Johny Mack spins the records on WWWB 1360 and waves at the fans from his palatial broadcast digs high atop the Sherer's in Jasper.
Sherer's later expanded to Birmingham suburb Graysville, where it sat as part of a small strip center. This location was unique in that it originally served a menu item not offered at the Jasper, Sumiton or Tupelo Sherer's restaurants: a familiar brand of fried chicken.....
.....
Burger? Shake?
Original or Extra Crispy?

Yes, the Graysville Sherer's offered Kentucky Fried Chicken on its menu (back then, Colonel Sanders franchised his chicken recipe to individual restaurants; he had yet to start the now familiar chain itself).

Of note is the all-neon sign. All the other locations had the neon arrow outline, but backlit centers.

This photo is probably of early '60s vintage, but was scanned from a 1968 yearbook advert.

(courtesy of Todd Jones)

Here is the trademark A-frame in Graysville as it appeared in February 1985, when it was in the process of being demolished.
Eventually, the chain spread toward north Alabama and northeast Mississippi ... even one in south Alabama (Ozark).

Sherer's gradually met its doom at the hands of inevitable national fast-food competition which began taking root in the smaller cities it served. One by one they gave it up .... and by the time the 1980s were over, so was the name Sherer's.
* * * * * * * * * * * * * * * * * * * * * * * * * * * * * * * * * * * * * * * * * * * * * * * * * * * *
SHERERCHAEOLOGY

The Graysville Sherer's called it a day in the late '70s, but the A-frame stayed around until 1985, despite the rest of the strip center being evacuated due to the collapse of a long-abandoned coal mine beneath the property in 1980. Today, one can still see a large dip in what used to be the parking lot out front of the adjoining strip.

The Sherer's building, while itself gone, still retains its foundation. In January 2005, Tim Hollis showed me some traces of the old Sherer's....
Out Front

The V-shaped protrusion in the front can be seen both here, and in the two photos of the A-frame above.

"Can I take your order please?"

"Yes, I'd like a 20-piece bucket of Kentucky Fried Chicken."

"That'll be $6.50."


The entryway into this Sherer's sported a multicolored hexagon tile floor. Although decomposing in the face of Mother Nature, much of it is still intact.

More floor

Part of the Sherer's dining room had a brick floor.

The center portion of the restaurant had a standard tile floor.
---
L.A. (LIMESTONE, ATHENS)
Here's a very well-maintained specimen of the architectural species aframius shereribus on Hobbs Street in Athens. Today, it houses Lawler's BBQ & Catfish.......
Pullin' the pork

A Google search for Lawler's Barbecue turned up this nice review. Besides this location in Athens, Lawler's also operates in Huntsville and Madison.

I have a weak spot in my heart for north Alabama 'cue .... my first culinary memories as a young tot in Madison include trips to Webb's, Thomas BBQ and .... [wistful, wish-I-could-have-some-now, sigh] .... Whitt's Barbecue in Decatur.

A is for Barbecue...

Here's a frontal shot of the Athens A-frame. Think really hard and you can taste the 19-cent hamburgers and thick Sherer's milkshakes.

Special thanks to Lance George for these Athens pics
---

MISSISSISHERER'S...
Sherer's had a major presence in northeast Mississippi, starting in 1962 with a store in Tupelo, located on 825 N. Gloster Street (at the time US 45). A second Sherer's made its debut around 1967 - that one was on East Main (then US 78 / Miss. 6). There were also Sherer's restaurants in Pontotoc, New Albany and Baldwyn; others were said to have been in Booneville and Corinth.

Baldwyn's store didn't last too long, opening in 1972 and closing by 1978. Tupelo's stores began wilting in the face of McDonald's, Burger King, and other big-name fast food icons. The East Main store closed in 1979, and the original Gloster location called it a day in 1980.

The magic of Sherer's was brilliantly captured for a postcard shot of the original Tupelo location, complete with a full parking lot and a "Golden Wave" of hungry teenagers: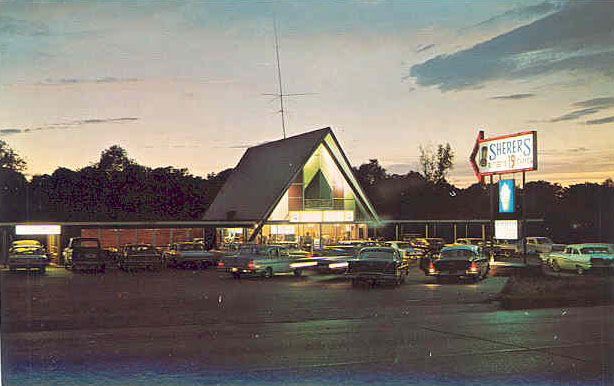 Sherer's in Tupelo on date night, circa mid '60s.
(postcard scan courtesy of Brad Johnson)

---
(LEFT) Advert for Sherer's in the 1964 Tupelo phone book; the picture is of the 'flagship' restaurant in Jasper, not Tupelo's!
(BELOW) Sherer's sign as seen in the Tupelo High School Album yearbook, 1969. The caption read "Meet the gang at Sherer's after the game." The sign at the bottom advertises Purnell's Pride, a (long-defunct) local poultry processor.
Sherer's has been gone from the Tupelo dining landscape for over 25 years, but the A-frames live on:
40 YEARS LATER...

Today, a lounge occupies the North Gloster building.

The Sherer look is still intact, except here we see the front all bricked in.

(photo by Tim Hollis, June 2005)

B-4 ... IT WAS A SHERER'S

The old Sherer's on East Main now houses a bingo parlor.

(photo by Russell Wells, 09/24/2005)

Sherer's also operated west of Tupelo in the town of Pontotoc. Tim Hollis also captured on film that former location ...... which appears to retain most visible evidence of its former glory: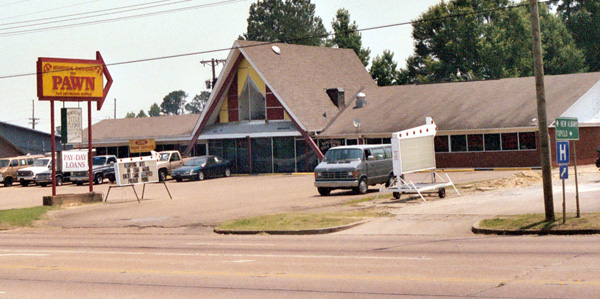 Today it's a pawn shop; however, few modifications have been made to the facade since its Sherer's days -- the yellow-and-burgundy stripes look none worse for their age, and the original Sherer's signage is still up, even the old ice cream cone icon and former marquee toward the bottom.
* * * * * * * * * * * * * * * * * * * * * * * * * * * * * * * * * * * * * * * * * * * * * * * * * * * * * * * * * * * * * * *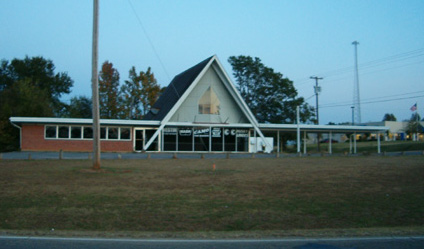 The former Sherer's in New Albany now appears to be a 'truck accessories' store.
(photo by Rodney Reeves; courtesy of Brad Johnson)

---
SHERER'S IN SOUTH ALABAMA?
That's right! Despite Sherer's being confined mainly to north Alabama and northeast Mississippi, there was a Sherer's Drive-In located in the southeast Alabama town of Ozark. It sat on good real estate, too: the right-hand side of US 231 southbound, a major arterial connector to Florida from Alabama and points northward. The store has gone through several different uses since it was a Sherer's ... two of them from extreme sides of the room!
OZARK, APRIL 1962

Here's an advert heralding the grand opening of Sherer's.

This photocopy must've cut off along the top, and somebody tried to creatively "fill in the missing space."

Ozark, Ala. was poised for growth. A new 4-lane alignment of 231 had opened around the city in 1960, as the road became a major route for Florida-bound 'snowbirds.'

Parcels on the new bypass began sprouting motels (such as southeast Alabama's first Holiday Inn) ... and restaurants like Sherer's.

Another '60s-vintage Ozark Sherer's ad.

I notice the 'schoolhouse'-shaped window inside the A-frame is smaller at this one than at the other locations.

(both adverts courtesy of Gordon Dodson)

THINK PINK....

In 2005, this building housed a craft store.

I doubt there'd be opposition to my awarding this "Most creative color scheme for an FSL" (Former Sherer's Location)

(photo by Tim Hollis, February 2005)

BUT WAIT....

This FSL has since kneejerked into "Ozark Outdoor World" Live bait, turkey calls and fishing supplies ... oh, my.

(Personally, I think it would've been a big hoot if this outdoor-supply house had kept the pink and teal scheme above.

(photo by TIm Hollis, March 2009)
Special thanks to Gordon Dodson, Lance George, Brad Johnson, Todd Jones and Rich Lockhart for their contributions

If you have any information, pictures, memorabilia or further historical information about Sherer's, PLEASE LET US KNOW!

---
RETURN TO BIRMINGHAM REWOUND: ROADSIDE
03/24/2009 -- 1245 PM EDT