Bruno's Food Stores
---
"You'll find all the foods you like best meet the test, and at Bruno's you'll save more."
"Bruno's .... of Alabama .... takes good care of ... youuuuuu"
Today, it's a regional grocery chain made up of Bruno's Food & Pharmacy, Food World (not the store of the same name in the movie Oh God!), Food Fair and FoodMax. It's several corporate owners' removed from the original Bruno family of Birmingham. Way back when, Bruno's was a small Birmingham area chain with a very memorable mascot.....

1971 advertisement featuring Bruno Bear and the original script logo for Bruno's. Does that B strike a sense of deja vu within? It should, if you used to patronize a certain drug store chain. Long after Bruno's discarded the above logo, the "B" lived on as the centerpiece of ... Big B Drugs! This was Bruno's foray into the pharmacy arena during the '70s. If it seemed like most of their locations were adjacent to Food Worlds or FoodMaxs, there's your answer! Big B Drugs sold out first to Revco in 1997, then the following year Revco itself was devoured by CVS, marking its entry into the South. Nearly all CVS locations in the state were originally Big Bs.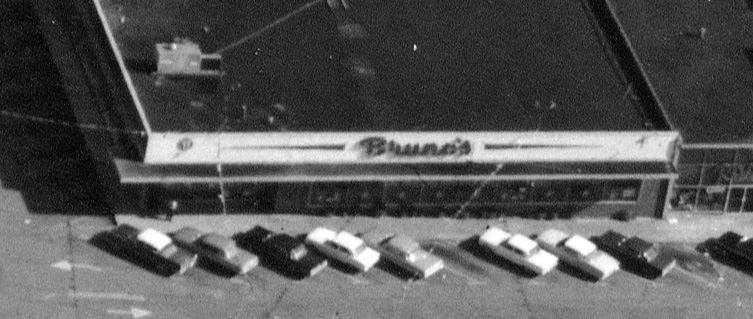 Bruno's store at Five Points West, circa 1965.
This is when they used the script logo on its buildings. (Alvin Hudson collection)