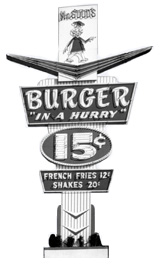 Along with Jack's, Dairy Snack, and the other homegrown Birmingham fast food restaurants of days gone by, there was Burger In A Hurry ... or, as it was officially known, "Mr. Good's Burger In A Hurry" ... named after the restaurant's mascot, Mr. Realee Good.

One of BIAH's locations was a favorite of Birmingham Southern students; it was across the street from the campus. Another of the stores was in the shadow of Vulcan on what used to be US 31. The Webmaster is barely old enough to remember their burgers ... and that tall, busy signage with the huge boomerang.

That boomerang was a dominant motif for its building architecture, the wrappers, napkins, you name it! Their buildings were truly distinctive, incorporating the boomerang shape along the roofline.

BIAH had called it a day by the mid '70s. Today, there is just one visible sign of this chain's existence ... the Hoover location, now housing a Golden Rule BBQ, still maintains much of the old Burger In A Hurry facade.